COPES has a fundraising committee that meet regularly through the year to decide how money should be spent and organise fundraising events.
The fundraising committee members' are:
A CNS team member on a rota basis (Rachel Keenan/ Grace Kent/ Liz Lawrence/ Alison Miller/ Louise Piper/ Sheila Smoothy)
Wendy Davies (chair)
David Prior
Khalil Razvi (Gynae oncology consultant)
Chris Roostan (vice chair)
Sue Soper (secretary)
Listed below are the projects and essential equipment that has been funded over the last 10 years by COPES.
Aims of COPES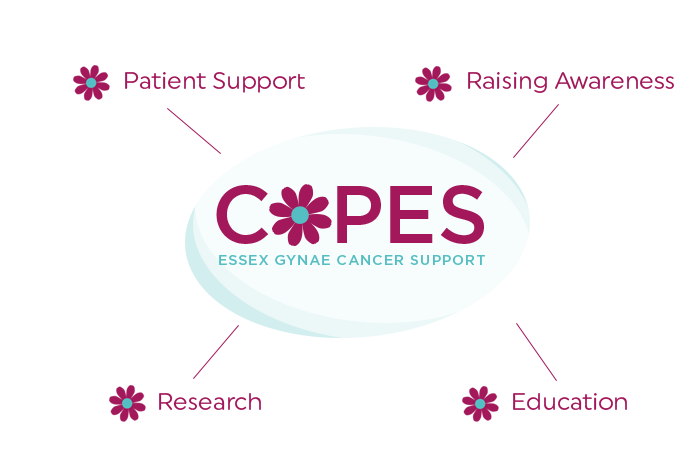 PATIENT SUPPORT
Diagnostic centre in Women's clinic
Bladder scanner
Dysis machine
Electric bed for Gynaecology Oncology ward
Blood pressure machine
Plasma jet probes – to assist and improve surgery
Bathroom refurbishment on Gynaecology ward
Hysteroscopy chair
Complimentary therapies at support group
Complimentary therapies at patients' homes
Theatre trip for support group
CNS time: to manage group
Funding a laptop computer for the CNS team to record investigations and treatments
Creating and Refurbishing and creating a Tranquillity Room for consultations and delivering the results of investigations
Funding a Venezia Applicator for the treatment of cervical cancer in the Brachytherapy Dept.
Funding a Health and Wellbeing Day for women with Gynae Cancers
Part-funding a lunch and talk on the important role of food in cancer recovery by John Lawson, at his restaurant Food by John Lawson.
RESEARCH / RAISING AWARENESS
Local GP audit into diagnosis/awareness of ovarian cancer
Nurse led follow up
Patient satisfaction survey
EDUCATION / RAISING AWARENESS
Survivorship days for patients
Fund secondment to Royal Marsden Hospital – Long term effects clinic
Staff attendance at Study day
Displays and awareness raising discussion with GPs (Education Centre)
Displays and Awareness Raising with hospital staff (Education Centre)
RAISING AWARENESS
Producing COPES pins / Posters / Cards
Articles in Southend Hospital Charity Fundraising News
Website design & update
Visits from and links to representatives of the major gynaecological cancer charities
Bi-annual awareness raising days in the hospital foyer's Fundraising Unit
Health and Wellbeing Day for patients